CASE STUDY
Self-Adhered Modified Flat Roof – Whitefish Bay, WI
Self-Adhered Modified Flat Roof
Reference # 71788
The owners of this originally built 1967 Colonial style home in Whitefish Bay wanted to add texture and dimension to their simplistic roof. They selected a GAF Camelot asphalt shingle in Antique Slate to replace their standard 3-tab roof shingles. With its ultra-dimensional, slate-like design, Camelot® Shingles give a unique sophisticated look that is unmatched by typical shingles.
For the flat portion of this house's roof, BCI needed to create a scuttle (hatch) for the owners to have access to the outside. A hole was cut and framed out for the scuttle then, Owens Corning DeckSeal™ Self-Adhered modified roofing system was installed to finish protecting the flat portion of the roof. DeckSeal™ SA Mod is a three-layer system that offers complete waterproof solution for low slope applications on homes. To learn more about DeckSeal™ Self-Adhered roofing system click here.

GAF Camelot – Antique Slate

Gutters & Downspouts – Terra Bronze
Location: Whitefish Bay, WI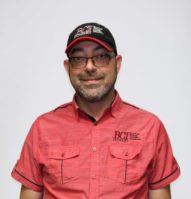 David Fogarty
Project Specialist
REQUEST A QUOTE
For high-quality exterior services, contact BCI today.
BCI quotes are
FAST, FRIENDLY & free!
BCI Exteriors can help add value and beauty to your home. Our certified team of professionals is trained on best practices and installation techniques based on industry standards for both new construction and replacement projects. With BCI Exteriors, we can save you both time and money, as well as give you the peace of mind that the installation was done properly.
Call BCI Exteriors today at 262-703-9700 to learn more about the best values on roofing, siding, gutters, windows, doors and home energy efficiency.